Meet the Finsharks: an interview with Adi Pandzic.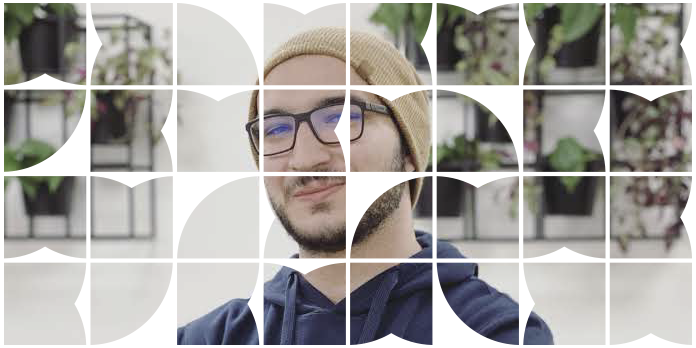 Adi Pandzic is the UI/UX designer working with our team in Sarajevo. Determined, talented, and extremely creative, Adi talks to us about his life at Finshark, his personal approach to UX, and explains how a modern, recognizable Scandinavian look is the right fit for an emerging fintech. Idiosyncrasies and quirks ahead!
Hello Adi, many thanks for chatting with us today! First thing first, where are you right now?
Thanks so much for having me! Well, since I'm writing this during my working hours, I'm definitely seated at my laptop right now doing work… definitely! I love my job so much that I wouldn't skip a minute doing what I do. By the way, is management reading this?

Honestly, humbled by the opportunity to be interviewed, I quickly opened my design folder (which has been piling up for the past 7 years) and in awe, I started looking at my first designs – only to realise how polite people must have been back then telling me how good those designs were. Yet, they are near and dear to my heart, and however lousy they might have been, looking at them now through nostalgia goggles, they still seem to me some of the best things I've ever created – as well as a good reminder of where I've started from and how far I've come in these past couple of years doing this professionally.


Now, imagine taking those goggles off for a moment and looking at that digital chest of mementos again. What sort of designs do you see in there? What kind of companies were they for?
My first love was print design. Many of those designs were in that field. At the time, I was amazed by the general concept of creating art on paper without using a paintbrush. I wasn't too much of a virtuoso with a pencil so that backed up my wish to go fully digital. With time progressing and the web increasingly evolving, I became acquainted with the idea that all websites and mobile applications needed to have somebody responsible with placing the right things in the right places for the experience on the website/application to be enjoyable. That's where a big shift in my career came, and from that moment on I knew what I wanted to do with my life. I never looked back since.

It was tough getting professional engagement as an 18–19-year-old kid with the only experience to speak of being made of YouTube tutorials and lots of tinkering with redesigning old websites. However, my breakthrough did happen eventually, and since then I've been working on various projects with multiple teams and companies – some of which turned out to be great experiences, some terrible. But all of that only helped me to build my background, as I wouldn't be where I am today (obviously) if I didn't go through heaven and hell.


Hopefully, your current role at Finshark is closer to heaven than hell – please agree. Also, what are you currently crafting right now, anything exciting?
If it was hell, I would probably be long gone by now! Over the years, I learned to be the kind of person that takes action instead of thinking about what could've happened if only I did. Some may like it, some may not, but in the end, if you have equipped yourself with enough information and research you will not have any problem doing what you think is right or speaking out when needed – you will be thankful to yourself.

As for Finshark, we do have some exciting months coming up! We're still in the phase of creating our brand and shaping our style, which encompasses both the visual and the application side of things. We have this philosophy here, that is no stranger in visual design, which repeats itself every time someone asks why we created something the way we have. So, if we're consistent enough, the answer to that is simple! We want to provoke a reaction. When somebody sees anything made by us, they should exclaim: "Oh, that is SO Finshark!". That's when we know we have done it right.


Being recognizable is indeed key! How else would you describe Finshark's visual identity, and what inspired you when first approaching it?
My main inspiration was to take the Scandinavian art movement, characterized by simplicity, tidiness, and functionality, and combine it with 21st-century tech, creating a better everyday life for many people. We marked our brand with a focus on clean, simple lines, minimalism, and functionality without sacrificing beauty. You won't find any superfluous items haunting our designs; instead, everything has a place, and unnecessary kitsch is nowhere to be found.

It's common knowledge that most people when hearing Sweden immediately think of IKEA. One of the main points of our research was to decipher why that is. Obviously, we can't compare ourselves to a furniture brand, but we can take notes on what made them successful and apply them to finance. We're still in the early stages of developing that direction and slowly reaping the rewards. We've read somewhere that 2021 will be the year of the Shark, and we've got many more things in the oven ready for a bake-off with the big guns in the industry!


As a matter of fact, we're on a mission to become the most Swedish fintech in the world, so this approach plays a huge role. Speaking of Sweden (!), what made you join the team in Sarajevo? And how's life there at the moment?
The simple fact that there is an idea behind the name. There is a clear vision, supported by a bold mission, pouring in confidence, and working with people sharing that attitude makes my job so much easier. Here, everybody appreciates the work of the designer, there is trust confided in the people hired, and there are no unnecessary "what if's". Being a designer, I'm by default a little bit thick-headed – but only if I provide the necessary research and evidence supporting why certain things should be the way they are. People here don't just throw that out of the window, they are heavily open-minded and that's just a basic trait that every company should take a stance towards without question.

As for life in Bosnia, I honestly feel like the news headlines everywhere basically revolve around the same "C-word", but we're trying to make the best of it and work around that as much as we can.


How do you cope with the current situation? Have you got any tips for people having to work remotely for the very first time?
I'm probably not the best person to ask this, since I don't cope with it in the best way. I usually try to keep very active by going for walks, runs, and working from different venues and coffee shops. That's the generic nomad life for you.

Obviously, we can't do that as much anymore, so in general, the best thing I found which does a similar trick to me is to dress in the morning as if I was going out to the office, work in a different place to where I usually am, and sporadically head out for walks. The human mind is a weird thing: the moment I sit down with my laptop at the desk I usually play video games, I immediately know that I'm done for, so I need a hard reset to get back to the working state of mind.
Let's focus on the things you can still do, or at least that you can hopefully go back to soon. Tell us something about yourself your teammates at Finshark (or anyone reading this) still don't know about you.
Some anecdotes, in no particular order:

I had long curly hair until I was 12.

I have never broken a bone in my life.

I've only learned to tie my shoes properly last year.

My first money earned was finishing third place in a European Team Fortress 2 tournament with my former team.

I like winters more than I do summers.

I launched myself into a tree while mountain biking.

I learned to read when I was 2.5 years old (according to my parents).

One day I want to move to Iceland.

I was a goalkeeper in a local football club for 5 years.

Finshark is my favourite workplace to date (management, are you still reading this?)
They are! Many thanks for your time today, Adi. It was great getting to know you better! Before you get back to making sure Finshark always looks on point (and to enjoying the winter weather, as it turns out), have you got any words of wisdom to share?
First of all, a pro tip for companies. Everybody expects great UX, but you can't just hire designers and researchers and not granting them the actual time and resources to do the necessary investigation. Too many businesses hire for UX and believe they want it, but then they still schedule everything like it doesn't exist – like it's just UI.

Second of all, this comes from a designer to other designers that might be coming across these lines: focus on the fundamentals. Avoid eating up on trends and the like, as it's filled with fluff pieces written by people trying to promote themselves. Empty calories. Rather, participate in discussions to share your thoughts and maybe there will be back-and-forth feedback – a good way to pick the brains of other designers.

Some people in UX are so insecure about status and have built an entire "look at me!" culture around it. Do not follow them blindly. We're ALL design thinkers. UX can change the world! Some UX teams out there spend more time talking about processes and UX "artifacts" than on the actual deliverables.

So, to all the design aficionados out there: challenge your thoughts, challenge other people's thoughts, and sooner rather than later, you will earn the respect you deserve as a designer. Be YOUR OWN brand!